Encino Hall
Emergency Preparedness - Encino Hall
The College of Health Professions is committed to protecting the welfare of its students, faculty, staff and visitors. The resources and procedures below are in place to foster a safe campus environment for all of us.

Regardless of the type of emergency in progress, you may call 911 and/or sound the fire alarm immediately. Remain calm, notify others, and respond to the emergency as appropriate. Do not attempt to handle any emergency situation in which you do not have training (e.g., fire fighting, first aid, spill response, etc.).
IMPORTANT!
Call 911 and/or pull the fire alarm whenever a situation poses immediate danger to people, property, or process.
When you call to report an emergency, provide the operator with the following information:
Building or area name
Location
Brief description of the emergency
Your name
A return contact phone number

Emergency Call Boxes
There are blue-lit emergency call boxes located across campus. The boxes closer to Encino Hall are in the Alkek Library Parking Garage.
By pressing the red button on any of these call boxes, you'll be connected directly to UPD and the box's location is shared.
Weather Emergencies
Texas State monitors the current local weather conditions in order to warn the university community if the campus environment becomes unsafe.
Closures or cancellations due to severe weather will be announced via several methods, including:
Safety and Emergency Communications page
The university homepage
Email from the University News Service or the University Police Department to all students, faculty and staff
Messages recorded on the university news hotline at 512.245.2424
Voicemail messages sent to all campus telephones
Local media announcements
Texas State weather emergency siren system
Texas State Weather Warning System:
Texas State University uses a lightning prediction warning system. The system uses a horn array and strobe-light warning mechanism to alert the campus of approaching weather systems that have the potential to produce dangerous lightning. If this occurs, the horn array will sound two times for 15 seconds and strobes will be activated throughout the alert.
If the Texas State weather warning system is activated, you are advised to seek shelter in the nearest available open building, away from windows, or in a low-lying area until the all-clear alarm has sounded. The all-clear alert will be three five-second sirens.
Safety Coordinators
Sara Boysen, Advising, 5-3506, sd12@txstate.edu
Courtney McKenzie, CDIS Clinic, 5-8241, cmckenzie@txstate.edu
Carmen Adams, CLS, 5-3500, ca10@txstate.edu
Janet Johnson, Dean's Office, 5-3300, jlj158@txstate.edu
Julie Carroll, HA, 5-3556, jc05@txstate.edu
Standard Response Protocol
A standard plan of action helps all community members stay safe during an emergency situation. Texas State University maintains a Standard Response Protocol, containing four types of action, to ensure a safe campus environment. Since 2014, all incoming students, faculty and staff have received information about the Standard Response Protocol.
The four actions of the Standard Response Protocol are: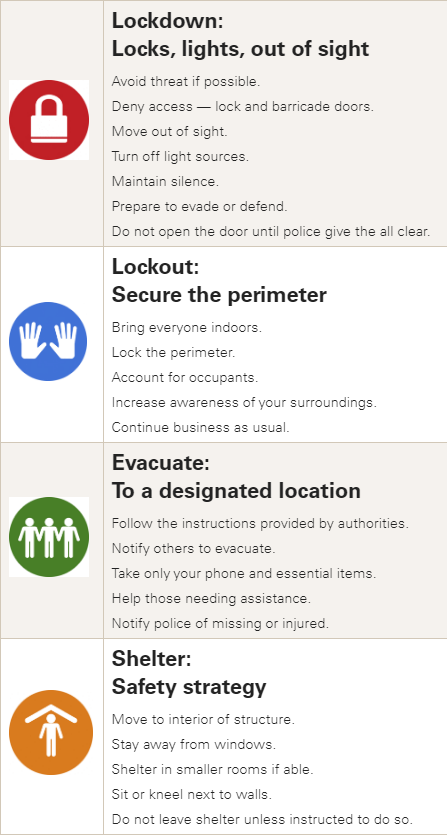 Sign Up for TXState Alerts
The TXState Alert system, managed by UPD, notifies members of the university community about emergency situations, including hazardous weather.
Sign up to get text alerts and stay informed on your mobile phone:
Important Phone Numbers
Police, fire, or medical emergency
911

University Police Department (nonemergency)

512.245.2805

Student Health Center

512.245.2161

Texas State operator from a university phone

0

Texas State operator from an off-campus phone

512.245.2111

University recorded news bulletin

512.245.2424

Physical Plant (emergencies and after hours)

512.245.2108

Counseling Center (mental health crisis — during business hours)

512.245.2208

Counseling Center (mental health crisis — after business hours)

1.877.466.0660

Safety Escort (Bobcat Bobbies)

512.245.7233

Housing Facilities

512.245.4680