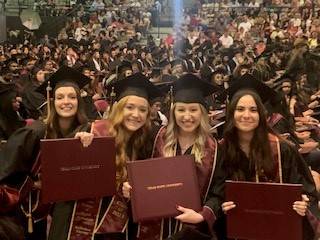 Program Graduation
To graduate with a Bachelor of Science in Radiation Therapy Degree, a student must successfully fulfill the general education requirements and complete all radiation therapy courses with a "C" or better. The student must meet the requirements for clinical competency as described in the Directed Clinical Learning syllabi. Graduation students must have attained a 2.0 or higher Texas State University GPA with a minimum of a 2.75 GPA in the Radiation Therapy major.
Pre-Graduation
The student is awarded the Bachelor of Science Degree in Radiation Therapy upon completion of the program. Applications for graduation are available through the College of Health Profession's Advising Center. Graduate fees may be paid via the CATSWEB registration system. The cap and gown must be ordered through Texas State University's bookstore. The registrar's office is responsible for mailing degrees.
A formal graduation reception is held in May of each year. The reception includes a pinning ceremony to acknowledge the successful completion of all program requirements in anticipation of graduation. Only graduating students are expected to attend. Students within the graduating class but lacking a requirement for graduation should refrain from participation until the actual graduating year.
General graduation requirements may be found here.