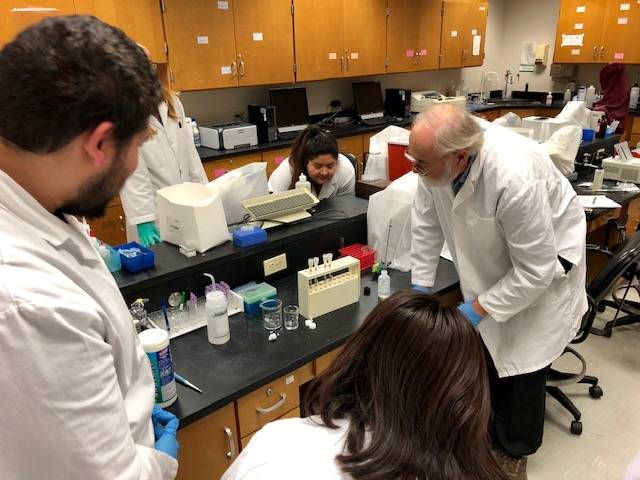 The Clinical Laboratory Science Program prepares students for a career in Clinical Laboratory Science. For admission into the program, please contact Dr. Rodney E. Rohde, Program Chair, or the CLS Program Office at 512-245-3500.
The clinical laboratory scientist, also known as a medical technologist, or medical laboratory scientist, plays a major role in the diagnosis, treatment, and prevention of disease. Clinical laboratory scientists use sophisticated laboratory instruments to perform tests in microbiology, immunology, immunohematology, hematology, and clinical chemistry.

Major
Texas State University offers a four year curriculum leading to a Bachelor of Science in Clinical Laboratory Science. The program is accredited by the National Accrediting Agency for Clinical Laboratory Sciences, 5600 N. River Road, Suite 720, Rosemont, IL 60018, (773) 714-8880. Graduates are eligible to take the certification examination as a Medical Laboratory Scientist (MLS) of the Board of Certification of the American Society for Clinical Pathology (ASCP).
The requirements during the first two years of study include courses in biology, chemistry, and mathematics along with courses in the humanities and social and behavioral sciences. The junior and senior years combine clinical experiences in the affiliated clinical laboratories with advanced academic study in the CLS disciplines. Since class size is limited due to the availability of space in the clinical affiliates, admission to the program is competitive and all who apply will not be accepted. Complete the CLS Admissions Module to apply or get more information.

Careers
The medical laboratory scientist has a broad background in the sciences and may find employment in hospital and clinic laboratories, public health laboratories, and research laboratories. With experience, the clinical laboratory scientist becomes an indispensable top level laboratory worker, a supervisor, a specialist, a researcher, or an educator.

Job Outlook
Job opportunities for clinical laboratory scientists are excellent, with more openings than available job seekers. Employment is expected to grow at a faster than average rate. (source: United States Department of Labor, Bureau of Labor Statistics, Occupational Outlook Handbook, 2010-2011 edition)

Special Requirements
Students complete their junior and senior year of professional courses at the University's teaching facilities in San Marcos and the clinical affiliates. Students are selected in the Spring semester of their sophomore year for the following Fall class. The application deadline is February 15 each year. Because of the limited number of students that can be accepted for the clinical phase of the program and the high number of applicants (a typical cohort of accepted students is 20 and we receive over 50 applicants in a typical year), students should maintain an overall minimum grade-point average above 2.50 (on a 4-point scale); however, it's recommended to aim for a grade-point above 3.0 to be more competitive (overall and science GPA). Acceptance into the University and declaration as a CLS major does not imply that the student will be accepted for the junior year. The criteria used for student selection are scholastic ability, particularly in the sciences, and a personal interview. Student selection is not made on the basis of race, color, religion, sex, age, or national origin.
Clinical Placement (rotation) Requirements
The Clinical Laboratory Science (CLS) Program at Texas State provides clinical placements for all CLS students entering the clinical year (senior year / 2nd year of post baccalaureate) in good academic standing. Clinical placements are carefully and methodically assigned while taking into account transportation issues, types of clinical affiliates, and student characteristics. In the event a clinical affiliate is unable to fulfill their prior obligation, alternative clinical rotations will be sought at other affiliate institutions. In the very unlikely event alternative clinical rotations are unable to be secured; affected students will be reassigned to the first available rotation site. The next available clinical rotation will occur as soon as possible but no later than one year from the time the rotation was cancelled. If the clinical rotation cancellation occurs after clinical rotations have commenced, the affected student will be placed first in the queue to receive the first available clinical rotation slot that will occur no later than one year after the cancellation. If the clinical rotation cancellation occurs prior to the start of clinical rotations, affected students will be selected based on GPA calculated from performance in the CLS courses. Students with the lowest GPAs will be required to relinquish their clinical rotation slots which will delay clinical rotations.
Program Outcomes
Our Clinical Laboratory Science Program outcomes, which are communicated yearly to the public are illustrated in the Table below. An acceptable placement for a graduate is if they begin working as a Medical Laboratory Scientist (also sometimes known as a Clinical Laboratory Scientist or Medical Technologist) or continue on with their education (for example, graduate school, Medical school, etc.). We have consistently placed 90% or higher of our graduates in the profession. Most of these graduates work in the state of TX.
| | | | | | | | | | | | |
| --- | --- | --- | --- | --- | --- | --- | --- | --- | --- | --- | --- |
| Outcomes | 2012 | 2013 | 2014 | 2015 | 2016 | 2017 | 2018 | 2019 | 2020 | 2021 | 2022 |
| Attrition – Program (2 yrs) | 18.8% | 0% | 10% | 5.3% | 0% | 10% | 0% | 5% | 25% | 0% | 10.5% |
| Attrition – Final Year | 0% | 0% | 0% | 0% | 0% | 0% | 0% | 0% | 0% | 0% | 0% |
| Graduation | 93% | 100% | 90% | 100% | 100% | 90% | 100% | 100% | 100% | 100% | 100% |
| Certification * | 67% | 89% | 94% | 94% | 100% | 100% | 94% | 100% | 93% | 95% | 89% |
| Placement ** | 100% | 100% | 100% | 94% | 100% | 100% | 100% | 100% | 100% | 100% | 100% |
*Passes within one year of graduation
** Students who found employment (in the field or in a closely related field) and/or continued their education within one year of graduation
The University
Texas State University (Texas State) is a comprehensive university with an enrollment of over 36,000 students. Located at the foot of the Texas Hill Country, Texas State enjoys a setting that is unique among Texas universities. The beauty of the crystal clear San Marcos River and many sprawling cypress and pecan trees on the campus add to the charm of this picturesque locale. Located 30 miles south of Austin and 50 miles north of San Antonio, San Marcos has managed to retain the charm of a smaller community. Texas State maintains an atmosphere where faculty and students take the processes of teaching and learning seriously. Texas State, a member of the Texas State University System, is an affirmative action, equal opportunity institution.